Photography by Shea Christine
Wedding Coordination by Kasey D Weddings
Florals by Julia Rohde Designs
Vintage Couch Rentals by The Salvage Snob
DIY Projects by Me!

I ultimately wanted florals that were very rustic, filled with herbs and not your ordinary wedding bouquet. Julia Rohde and her team took my inspirations and ideas and blew me out of the water. Our florals consisted of succulents, mint, spray roses, peonies, dahlias, eucalyptus, rosemary, olive tree branches, quince tree branches…the list goes on and on.. It looked gorgeous and smelled AMAZING.
As you've noticed, my bouquet has a hanging cross which I purchased around the same time as the bridesmaids earrings. I wanted to start off a tradition within the family and friends & hopefully be able to pass it down the years.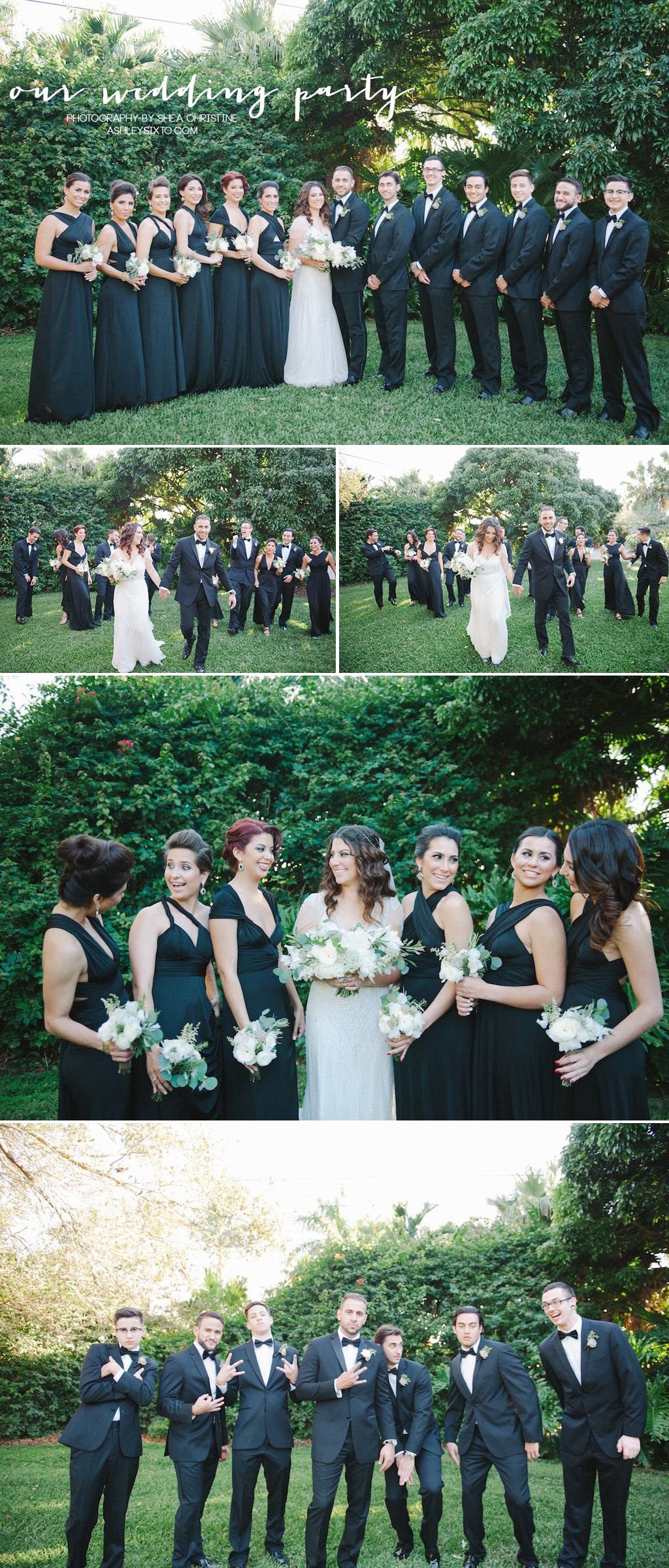 All my bridesmaids are actually wearing the same dress. I'm one of those "alien" brides (as someone called me during the process) where I allowed my girls' personalities to shine through and decide how they wanted to wear there dress. Let's be honest…not everyone looks good in a strapless number or a halter top. So i wanted them to be as comfortable as possible and create something in which they might've worn/purchased on their own.
Adrian and I wanted to keep a very elegant theme so we decided to use black & white as a basis for majority of the attire choices.
For the groomsmen, Adrian adapted that same concept with the bow ties. From afar, it looks like they're all just wearing black bow ties…which they are, but all of them have a different pattern or material.
After seeing it all put together, I'm so happy with how everything came together. I loved seeing all the court looking fancy and sleek in black.

For my additional "something blue" Adrian's parents gifted me a vintage sapphire ring that belonged to a great aunt. It was such an honor to be able to wear this ring, besides the fact that it's beautiful.
Majority (basically all) of the handwriting you've seen throughout this week has all been hand drawn by moi. On top of the elegant look I wanted to bring to the rustic scenario, I wanted to make the details "homey". Hence the chalkboard elements, vintage couch rentals and not over the top decor.
Once the party got started, we handed out custom made sunglasses that read "A&A 02.15.14" as party favors. I love that it got everyone in more of a party mode and in all our pictures, you see EVERYONE wearing them. I'm pretty sure that most of our guests are still wearing them. It's a fun reminder of the wedding.


This was such a fun DIY! I'm a sucker for pictures so I wanted to create a different guestbook element for the wedding. I was able to use a vintage frame that used to belong to the family & I knew exactly what I wanted to make of it.
I bought some burlap fabric, chicken fencing wire and some gold spray paint. From there it was as simple as staple-gunning all the pieces together and adding some final details and viola!
I was afraid that some of the guests would understand the idea behind the polaroids, but to my surprise, the frame was FILLED by the end of the evening. Adrian and I enjoyed so much looking at all the pictures and all the silly faces everyone captured. So worth it!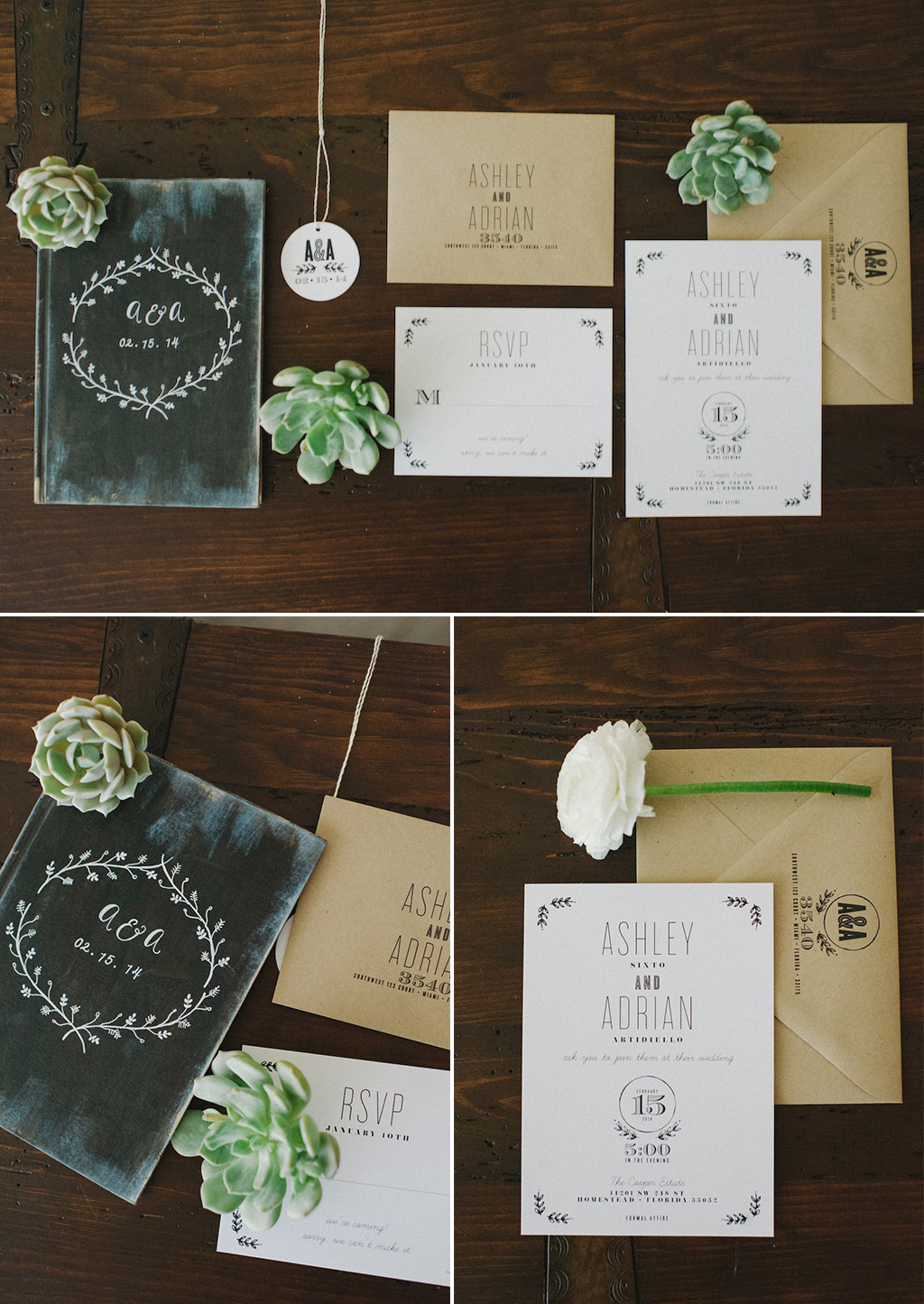 Obsessed with our Invitation Suite! We custom made them at Smitten on Paper & Also purchased our chalkboard inspired guestbook here.

 Adrian & I wanted more of our personalities shown throughout all the wedding, so we went for His and Hers cocktails to be passed before the reception. I purchased black and white striped straws (believe it or not, at Kmart) & personalized napkins (purchased at HomeGoods).
His Drink : Old Fashioned // Her Drink : Passion Pop
Custom Drink Stirrers w/ Flags purchased here.
Hoping you've enjoyed the details of the wedding! If you have any questions about anything, feel free to shoot me an email at [email protected] or comment on this post. I'll help you out to the best of my ability! xx
Next up on Wedding Week : Our Favorite Moments!