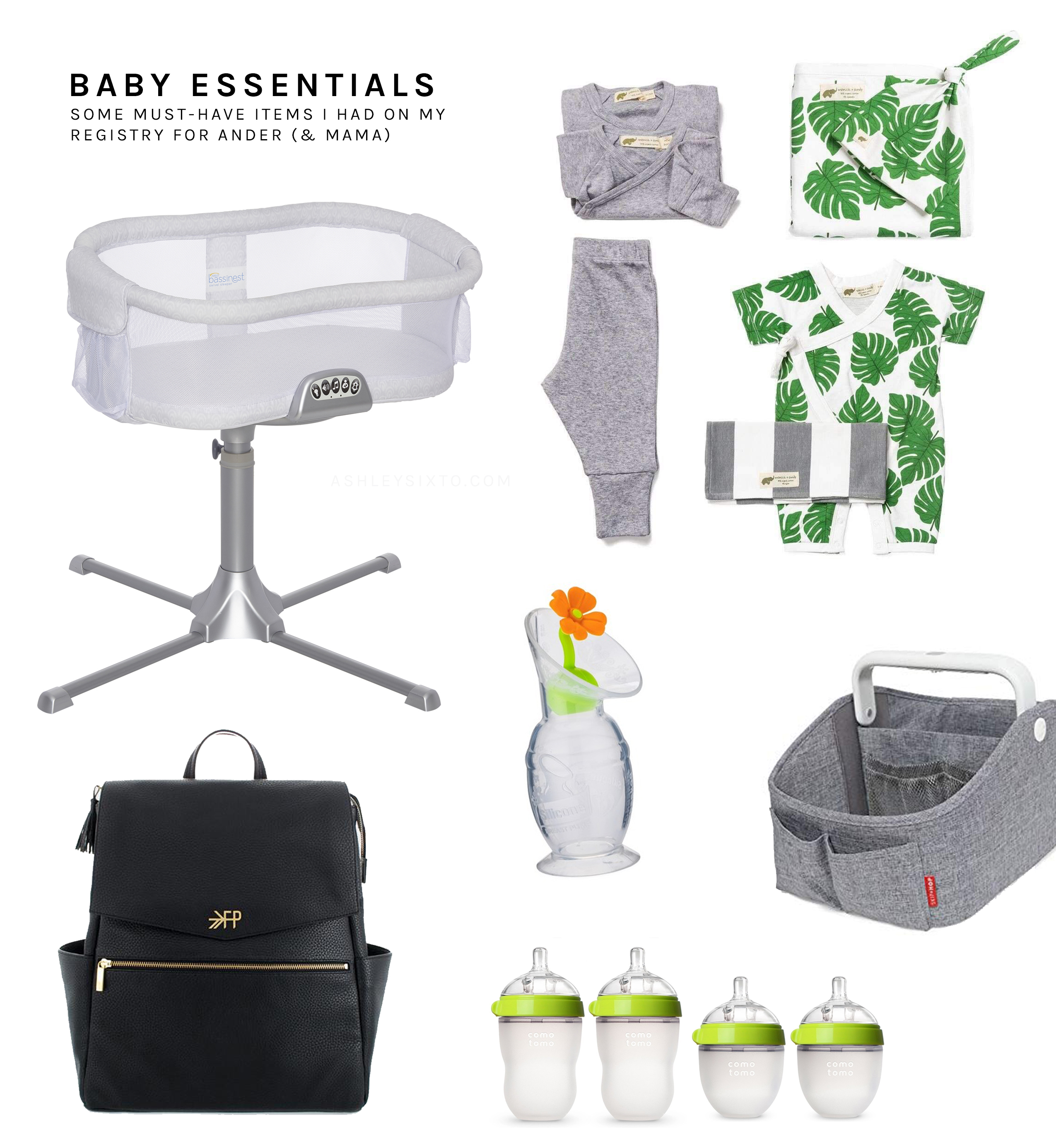 Lucky for us, having both boys so close in age reduced the amount of things I put on my registry, I only ended up needing a couple of things. We have tons of Axel's clothes that will be used as hand-me-downs for Ander and all the funky gizmos and gadgets we got, too. But there were a few essentials I put on my registry this time around, that I hadn't before.
Why a bassinet? When we first had Axel we were living in a smaller 1 BD apartment and had his crib right next to our bed in our room. There was no need for one and we had him sleeping in the crib from day one. It was honestly the best thing ever, there was no hard times transitioning him into his crib – he didn't know any different.
This time around, we live in a larger apartment and Axel has his own room. But, in order to ease everyone into a smooth transition we put the Halo Bassinet on our list to have Ander close by the first few months. Especially if I will be breast feeding again – it's the easiest thing. We just recently built it and can't wait to use it! love the swivel factor of it.
Even though I've packed an outfit that Axel first wore in the hospital (for photo comparison purposes down the road) – I wanted Ander to have his very own take home outfit. This set from Monica & Andy is the absolute cutest, too! They are available in a bunch of different prints, but this tropical one was my absolute favorite. They are so soft and so tiny. It comes with 2 Grey tops with a matching pant, a printed onesie – with a matching swaddle blanket + beanie, plus a striped burp cloth. The absolute works. No need to pack anything else in my hospital bag.
Game changer. We purchased this one ourselves actually, before our summer vacation to Italy and it's the absolute best. The pockets inside keep everything organized and in it's place + the leather textured look is perfect enough for Adrian to rock it, too.
I've been seeing a lot about this cord-free silicone breast pump. I wish I would've had this when I was breast feeding Axel. Looking forward to having this on hand when I'm on the go or in the middle of the night when I really need to "let down" for comfort. Sorry guys, I know – TMI. Whatever. #Motherhood
SKIP HOP LIGHT UP DIAPER CADDY
Like I mentioned above, We'll be having Ander in our room for the first few months in the bassinet. In order to not annoy either baby or dad during those late night feedings/changing sessions I thought this caddy was absolutely perfect. It has a small, dim light that would be perfect enough to light up the area and be quick 'n easy change. Winning!
Now, I can't say anything good or bad about these bottles because I've never used them. But they come highly recommended and I'm hoping that Ander will like them (when we need to use them). I plan on breast feeding for as long as I can – but there will be those days/nights where I'd rather switch him to stored breast milk for a little bit of a break….. or date night with Adrian.
What are some of your Baby Essentials? Would love to know!
Many women report no side effects. cialis in malaysia If you vomit within 2 hours of taking the levonorgestrel emergency contraceptive pill, you should contact your pharmacist about whether you need to take another tablet.