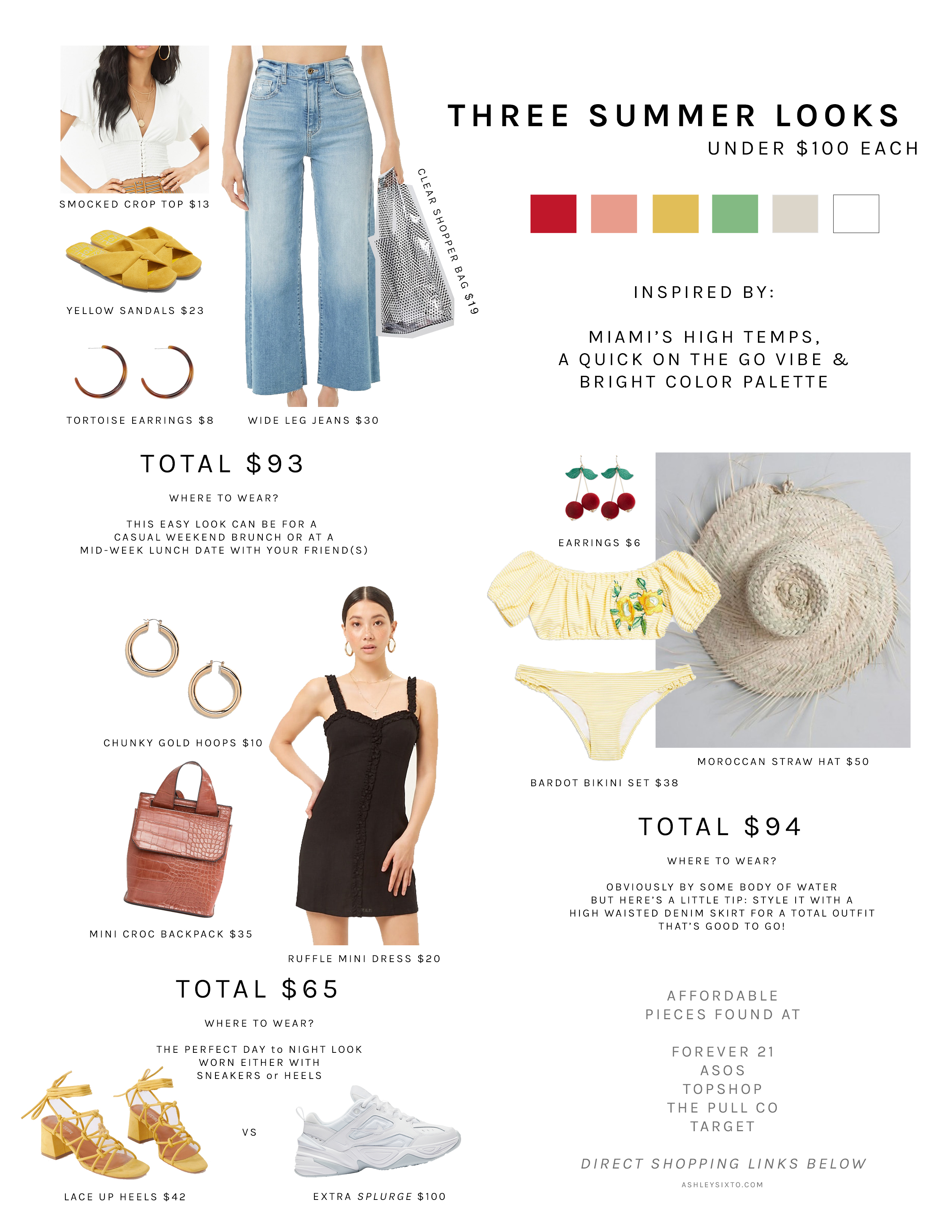 it's obviously been a while since I've put together a round up of "looks i'm craving" for the blog, but it doesn't mean i've been out of touch with putting together outfits. it's what I do on a weekly basis: for a personal client, editorial shoot or brand campaign.
what really excites me for styling is nailing the look – especially at an unbeatable price – and making the person wearing it feel good. there's nothing greater than hearing "wow, I had no idea I could put that together and for that price." it's so fulfilling.
so i'm back at it again bringing together three of my favorite kind of summer looks at the moment and all under $100 each. you can't go wrong with maximizing your benjamins.
here are the deets.
LOOK ONE:
made a "simple" look of a white top and jeans POP with color and texture
crop top | jeans | tortoise hoops | plastic shopper | yellow sandals
LOOK TWO:
Beach ready babe with this tropical get up!
cherry earrings | gingham bikini top & bottom | moroccan fringe hat (available for $40-50)
ps- added a little bonus beach bag in there. it's on sale for $22!
LOOK THREE:
Everyone needs a look that can go from day to night. It's essential when you're an on the go gal and get a last minute invite for drinks with friends. I've chosen a mini backpack because it's casual enough to wear during the day and hold from it's top strap at night, like a purse.
mini dress | hoop earrings | croc mini backpack | lace up heels | sneakers
comment below with events or things you'll be attending where you'd like to see what outfits to put together for under $100! x
SaveSave
SaveSave