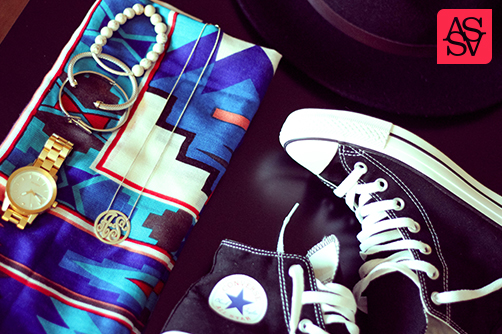 watch: Nixon. necklace: Monograms by Francesca (to order email: [email protected]). bracelets: Forever 21, David Yurman, DIY. scarf: Forever 21. shoes: Converse. hat: Forever 21.
Truth be told, I'm a simple kind of gal. When I'm not in heels, I'm in sneakers. I usually wear the same set of jewelry: monogram necklace, my nixon watch, and a few bracelets. This is why I love the fall season so much. It's a season all about simplicity in it's core but topped off with experimental risks and fun. My core pieces for the fall are always a good pair of boots, my converse, a scarf and hat. Throw it together with a pair of jean cutoffs, a dress, or even add them to lady like outfits like a bouclé jacket and short set. Agh, I love it.
outfit one (left): hat & top – Forever 21. shorts – Repurposed by Ashley Sixto. sneakers – Converse. middle accessories: scarf – Forever 21. watch – Nixon. outfit two (right): spiked headband – ASOS. dress – Topshop. sneakers – Superga.