I woke up this morning & was in the mood to spruce up some healthy breakfast. Something new, something I've never made before. Mmmmm…PANCAKES!
But I had no pancake mix, and wasn't really interested in using a pre-made one either. I really wanted to say "Good morning! I made pancakes for you… from scratch!" So I started to search all over the internet using keywords of the things I had in my pantry and fridge…and boom!
Out came the blender & the simple ingredients (which you will usually find at your house and can skip the trip to the grocery store) and voila, I made pancakes from scratch!
And they were reaaaally good. And gluten-free too, in case you were wondering.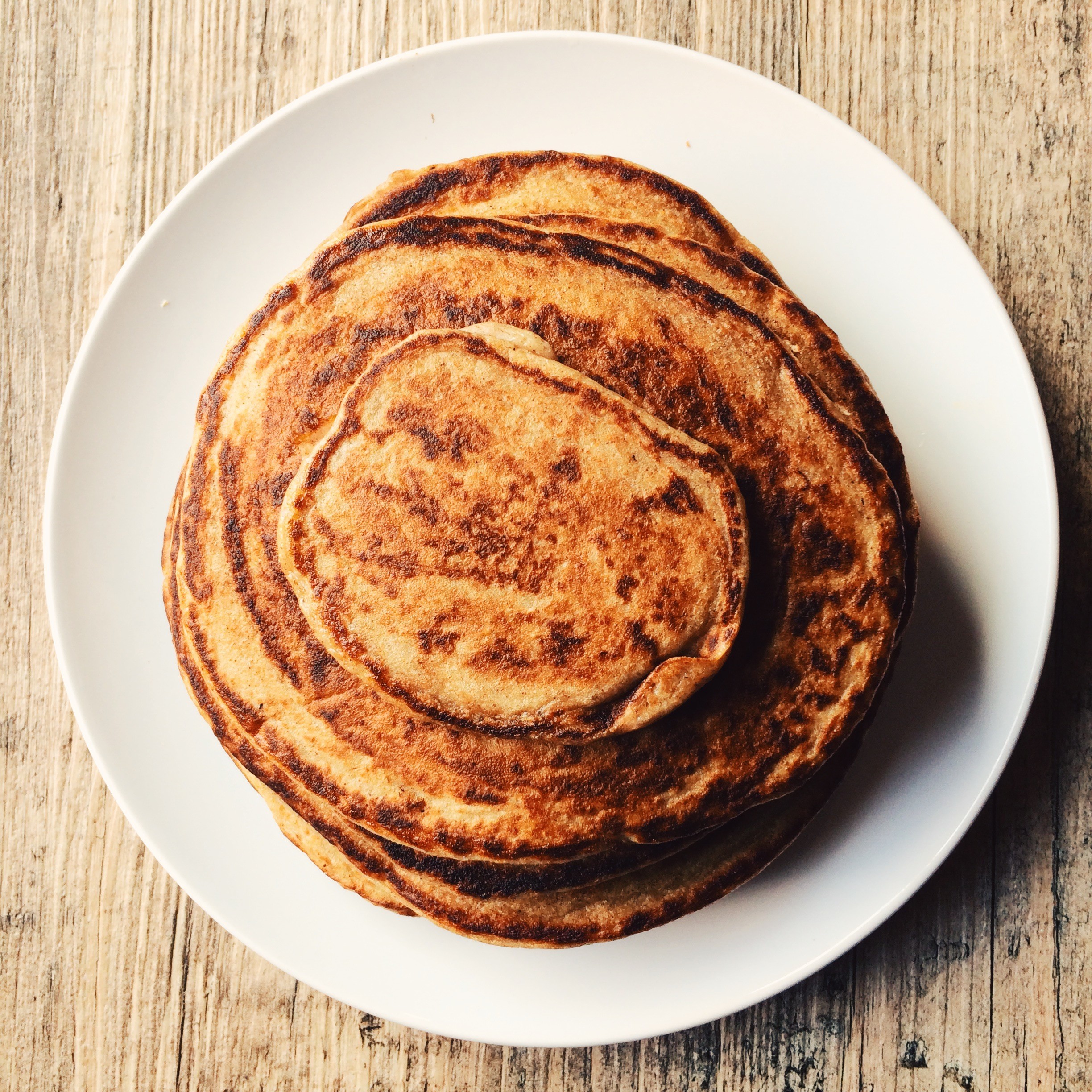 Yields: 6-8 pancakes (depending on the size)
Ingredients
1½ cup instant/rolled oats
1 tbsp. baking powder
1 tbsp. cinnamon
2 medium bananas, sliced
4 egg whites + 2 whole eggs
1½ cup plain Greek yogurt
2-4 Tbsp. almond milk
1 tsp. vanilla extract
Instructions
Preheat a skillet over medium heat and coat it with cooking spray or oil. You want to make sure the pan is very hot before you start cooking your pancakes.
Add ingredients to a blender in the order listed and blend until oats are broken down and batter is frothy.
Using a ladle or small measuring cup, drop batter onto skillet until the desired size of pancakes is reached. Cook until the edges begin to look dry and bubbles start to form on the top of the pancake, which is about 1 minute. Using a spatula, flip the pancake and cook about 2 more minutes on the other side. Repeat with remaining batter, making sure to coat your skillet again with oil between each batch.
Remove from heat and serve with your favourite toppings. (I like to add freshly diced strawberries!)
Have you ever made a healthy breakfast from scratch?
I'd love to see if you guys try out this recipe – send me your feedback!
enjoy xx
Ash